Frequently Asked Questions
Q) Are all your rooms oceanfront?
A) Yes. All our rooms and suites have a private balcony that looks directly out to the ocean.
Q) Are your rooms non-smoking?
A) Yes, we are a 100% non-smoking facility. Smoking is not allowed in any of the public areas of the hotel, guestrooms, or balconies.
Q) Do you have a pool?
A) Yes. The Breakers has an outdoor pool on the ocean side of the building. It operates seasonally and is heated as needed in the Spring and Fall.
Q) Will my credit card be charged when I make a reservation?
A) Yes. We do require a deposit equal to the first night's rate with tax. We process the charge to your account when you make the reservation.
Q) What if I have to cancel my reservation, will I get my deposit back?
A) Our cancellation policy requires 72 hours notice prior to your arrival to cancel your reservation and receive a refund of your deposit. There is a $10.00 cancellation fee that will be deducted from your refund. If you cancel within the 72-hour period, there will not be a refund of your deposit.
Q) What time is Check-in / Check-out?
A) Rooms are available for check-in anytime after 4:00PM. Check-out is by 11:00AM.
Q) Do you have parking available?
A) Free Parking for one vehicle is on site for our guests. (1 parking space per rental unit.) Additional vehicles are charged $50.00 / day and are to park in the public parking lot adjacent to the hotel.
Q) Do you have a restaurant?
A) The Boardwalk Café is our coffee shop, which is located just off the lobby and serves Breakfast and Lunch daily from 7AM to 2PM.
Q) Do you offer any discounts?
A) At this time we do not offer any discounts.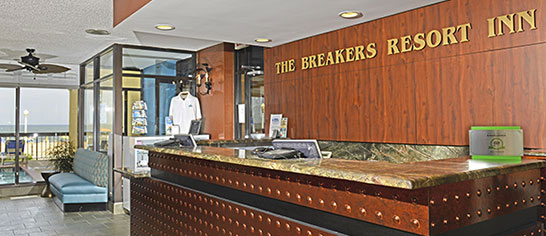 Q) How do we get a bicycle?
A) Bicycles are available for our guests to use "in season." They are available on a first come / first served basis daily from 7AM to 7:30PM. There is a one-hour limit on their use so that all our guests can enjoy them. You may sign them out at the front desk – parents need to sign for their children.
Q) Is there a refrigerator in the room?
A) Yes, all rooms have a refrigerator, coffee maker and microwave. Our suites also have a two-burner stove top and a toaster.
Q) Do you have hair dryers in the room?
A) Yes, each room is equipped with a hair dryer.
Q) Do you have towels for the pool or beach?
A) No. We only provide towels for in-room use. You will need to pack your own towels for the beach or if you forget to pack them, there are several gift shops just across the street with a nice selection.
Q) What is your address?
A) The Breakers is located on the oceanfront at the corner of 16th Street and Atlantic Avenue. The address is: 1503 Atlantic Avenue, Virginia Beach, VA 23451.
Q) Are you close to restaurants and shopping?
A) Yes, we are located right in the heart of the resort area of Virginia Beach. There are several restaurants and gift shops within walking distance. You could explore our city more with a short drive, or you could "Catch the Wave" – a shuttle bus that runs in the resort area and has a route that goes out to several local shopping areas.